Noth­ing says cel­e­bra­tion like a plate of choco­late truf­fles, and if you live a dairy and/or soy-free lifestyle, it may have been quite a while since you have had a truf­fle of your own – but no longer! These Rasp­ber­ry Truf­fles are not only deli­cious and aller­gen-friend­ly, but also full of nutri­tion­al good­ness. Dark choco­late, coconut oil and rasp­ber­ries are all nat­u­ral­ly high in antiox­i­dants and anti-inflam­ma­to­ry com­pounds, so you can treat your body AND your taste­buds all in one bite.
Free from Gluten, Grains, Dairy, Soy, Eggs and Peanuts
Ingredients
10–12 oz. + 4 oz. (divid­ed) dark choco­late of your choice, bro­ken into pieces (I used a com­bi­na­tion of Enjoy Life dark choco­late chips and Montezuma's 100% cacao chocolate)
½ cup full-fat coconut milk
4 oz. freeze-dried rasp­ber­ries, crushed and divided
1 tsp. coconut oil
Sea salt to taste
Instructions
Heat coconut milk in a small saucepan until just slight­ly bubbling
Pour over 10–12 oz. choco­late and cov­er the bowl with a tow­el for 2–3 minutes
Whisk choco­late and coconut milk until smooth and all choco­late is melted
Stir 1–3 spoon­fuls of rasp­ber­ries into mixture
Place bowl in the fridge for 2–3 hours, until mix­ture is firm but scoop-able. If it gets too hard, just leave it out on the counter for 10 min­utes before proceeding.
Com­bine 4 oz. choco­late and coconut oil in a small saucepan and stir until melt­ed. Remove from heat.
Using a mel­on baller or small ice cream scoop, scoop chocolate/coconut milk com­bo into balls, rolling between your hands if nec­es­sary to form an even shape.
Dip truf­fles into melt­ed choco­late (use what­ev­er method is best for you – I had the most luck drop­ping the truf­fle into the melt­ed choco­late and scoop­ing out with a spoon)*
Place dipped choco­late on a parch­ment-lined cook­ie sheet and sprin­kle with crushed raspberries
Refrig­er­ate for at least 1 hour
Store in an air­tight con­tain­er in the fridge, take out truf­fles 10 min­utes pri­or to serving
Enjoy!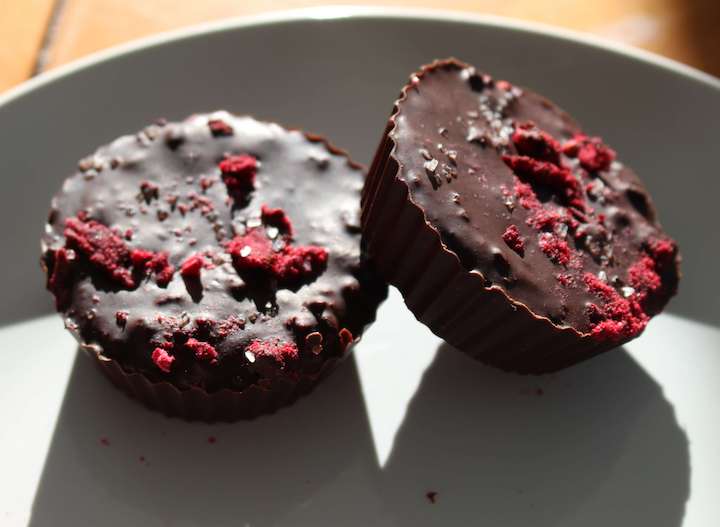 *If you have any extra ganache top­ping, mix some crushed rasp­ber­ries in and spoon into sil­i­cone muf­fin molds. Sprin­kle with sea salt and put in the fridge to firm up – an instant choco­late treat!*