Ladies and Gen­tle­men, today we are tak­ing a field trip…into my pantry! (I know, I know…a safari would have been more fun, I'll work on get­ting some giraffes). One of the ques­tions I'm asked most fre­quent­ly is which brands I use and how I stock my pantry, so I'm always ready to whip up a meal in a jiffy.
I often hear from clients that they don't keep things on hand for them­selves, because their dietary needs are dif­fer­ent from their spouse or room­mates. It's absolute­ly pos­si­ble to stock a pantry for mul­ti­ple dietary needs, as my hus­band and I couldn't be more dif­fer­ent in the way we eat. For brevi­ty sake, I'm a gluten/­grain/­dairy/­soy-free, low-residue veg­e­tar­i­an (say that five times fast). My hus­band? He eats pret­ty much anything.
So…what are our sta­ples and absolute must haves in our pantry?
First and fore­most, let me be sure to men­tion that I do not have any affil­i­a­tions with the brands I have show­cased. All thoughts and opin­ions are pure­ly my own. Sec­ond­ly, when choos­ing prod­ucts, I take a few things into consideration:
Ingre­di­ents – plain and sim­ple, what's in it? Could I make it myself? Can I pro­nounce all of the ingredients?
Source – where was it made?
Organ­ic/Non-GMO – as much as pos­si­ble we aim for foods free from dyes and preser­v­a­tives, and grown/produced with­out genet­ic mod­i­fi­ca­tion of any kind
Price – while many of us would love to have the top of the line for all of our prod­ucts, it's not finan­cial­ly fea­si­ble. I rely heav­i­ly on the bulk bins, local store brands like Weg­mans and Trad­er Joes, and dis­count clubs like Cost­co and Thrive Market.
Snacks
Weg­mans Organ­ic Popcorn
Trad­er Joe's Organ­ic Blue Corn Chips
Whole Foods 365 Organ­ic Wheat Squares
Man­i­to­ba Har­vest Hemp Bites
RxBars, Thun­der­bird bars, Juice Plus bars and Larabars
Sim­ple Mills Almond Flour crackers
Cooking Staples
Most grains, nuts, seeds, dried fruit and beans are pur­chased from the bulk bin and stored in mason jars (var­i­ous lentils, bar­ley, ama­ranth, mil­let, brown rice, dates, dried cran­ber­ries, almonds, cashews and sun­flower seeds)
Cost­co Organ­ic Quinoa
Wegman's Organ­ic Broth
Ancient Har­vest Quinoa Flakes
Tin­kya­da Brown Rice Pasta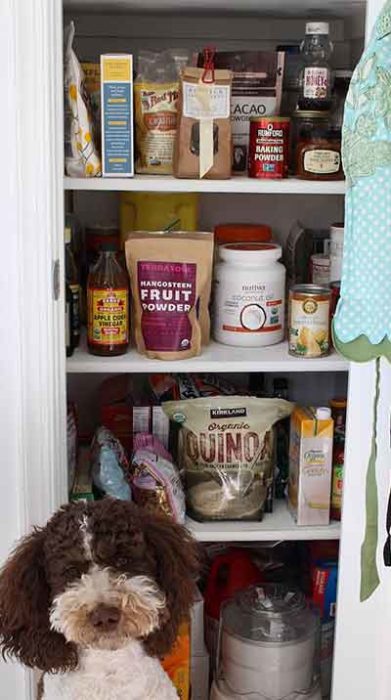 Canned and Bottled Goods
Farmer's Mar­ket Organ­ic But­ter­nut Squash and Pumpkin
Thai Kitchen Coconut Milk
Weg­mans Organ­ic Black Beans
Brag­gs Apple Cider Vinegar
Weg­mans Organ­ic Chunky Mari­nara Sauce
Baking
Nuti­va Coconut Oil
Nav­i­tas Nat­u­rals Cacao Powder
Trad­er Joe's Organ­ic Raw Honey
Otto's Cas­sa­va Flour
Bob's Red Mill Ultra Fine Almond Flour
Supplements and Smoothie Add-Ins
Organ­ic India Turmer­ic Formula
Juice Plus Gar­den and Orchard Blends
Vega Chlorel­la Powder
Ter­ra­soul Man­gos­teen, Acai, and Noni Powders
Tasty Treats
Thrive Mar­ket Gin­ger Cubes
Bur­dicks Choco­late Cacao Nibs
Larabar Bites
Nikki's Coconut Butter
Enjoy Life Choco­late Chips
Mad­ha­va Coconut Sugar
So there you have it…a peek into my pantry! Do we have any of the same favorites? Could you guess what belonged to whom, and which items we can share?