Ladies and Gen­tle­men, today we are tak­ing a field trip…into my pantry! (I know, I know…a safari would have been more fun, I'll work on get­ting some giraffes). One of the ques­tions I'm asked most fre­quent­ly is which brands I use and how I stock my pantry, so I'm always ready to whip up a meal in a jiffy.
I often hear from clients that they don't keep things on hand for them­selves, because their dietary needs are dif­fer­ent from their spouse or room­mates. It's absolute­ly pos­si­ble to stock a pantry for mul­ti­ple dietary needs, as my hus­band and I couldn't be more dif­fer­ent in the way we eat. For brevi­ty sake, I'm a gluten/­grain/­dairy/­soy-free, low-residue veg­e­tar­i­an (say that five times fast). My hus­band? He eats pret­ty much any­thing.
So…what are our sta­ples and absolute must haves in our pantry?
First and fore­most, let me be sure to men­tion that I do not have any affil­i­a­tions with the brands I have show­cased. All thoughts and opin­ions are pure­ly my own. Sec­ond­ly, when choos­ing prod­ucts, I take a few things into con­sid­er­a­tion:
Ingre­di­ents – plain and sim­ple, what's in it? Could I make it myself? Can I pro­nounce all of the ingre­di­ents?
Source – where was it made?
Organ­ic/Non-GMO – as much as pos­si­ble we aim for foods free from dyes and preser­v­a­tives, and grown/produced with­out genet­ic mod­i­fi­ca­tion of any kind
Price – while many of us would love to have the top of the line for all of our prod­ucts, it's not finan­cial­ly fea­si­ble. I rely heav­i­ly on the bulk bins, local store brands like Weg­mans and Trad­er Joes, and dis­count clubs like Cost­co and Thrive Mar­ket.
Snacks
Weg­mans Organ­ic Pop­corn
Trad­er Joe's Organ­ic Blue Corn Chips
Whole Foods 365 Organ­ic Wheat Squares
Man­i­to­ba Har­vest Hemp Bites
RxBars, Thun­der­bird bars, Juice Plus bars and Larabars
Sim­ple Mills Almond Flour crack­ers
Cooking Staples
Most grains, nuts, seeds, dried fruit and beans are pur­chased from the bulk bin and stored in mason jars (var­i­ous lentils, bar­ley, ama­ranth, mil­let, brown rice, dates, dried cran­ber­ries, almonds, cashews and sun­flower seeds)
Cost­co Organ­ic Quinoa
Wegman's Organ­ic Broth
Ancient Har­vest Quinoa Flakes
Tin­kya­da Brown Rice Pas­ta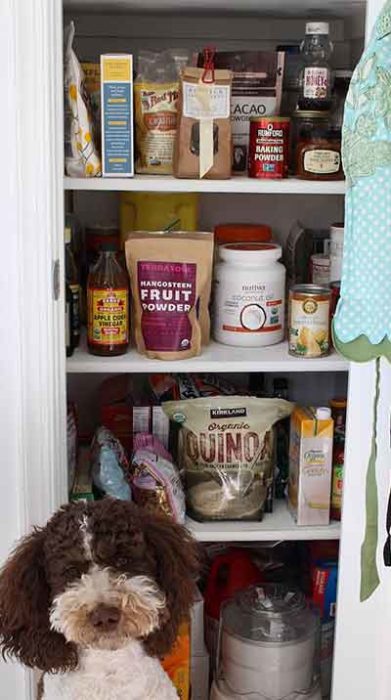 Canned and Bottled Goods
Farmer's Mar­ket Organ­ic But­ter­nut Squash and Pump­kin
Thai Kitchen Coconut Milk
Weg­mans Organ­ic Black Beans
Brag­gs Apple Cider Vine­gar
Weg­mans Organ­ic Chunky Mari­nara Sauce
Baking
Nuti­va Coconut Oil
Nav­i­tas Nat­u­rals Cacao Pow­der
Trad­er Joe's Organ­ic Raw Hon­ey
Otto's Cas­sa­va Flour
Bob's Red Mill Ultra Fine Almond Flour
Supplements and Smoothie Add-Ins
Organ­ic India Turmer­ic For­mu­la
Juice Plus Gar­den and Orchard Blends
Vega Chlorel­la Pow­der
Ter­ra­soul Man­gos­teen, Acai, and Noni Pow­ders
Tasty Treats
Thrive Mar­ket Gin­ger Cubes
Bur­dicks Choco­late Cacao Nibs
Larabar Bites
Nikki's Coconut But­ter
Enjoy Life Choco­late Chips
Mad­ha­va Coconut Sug­ar
So there you have it…a peek into my pantry! Do we have any of the same favorites? Could you guess what belonged to whom, and which items we can share?